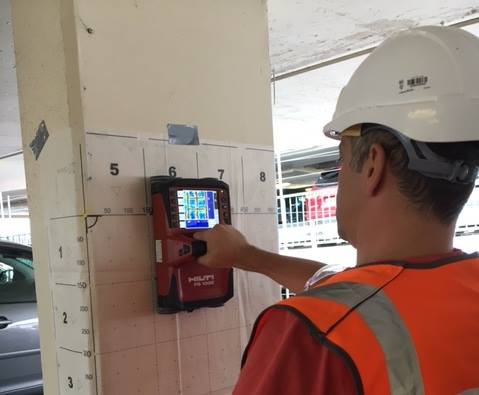 GPR is a beneficial tool on Building investigation due to its capability to define location and depth of metallic and non-metallic utilities. Our utility locators use a combination of cable/pipe locator and GPR technology to locate underground utilities.
Methodology:
The following techniques and technologies are combined to achieve our objectives:
Ground penetrating radar (GPR)
Radio-frequency locators (i.e. not basic CATs) in active & passive modes
Cover lifting, threading, signal induction
Cross referenced against Statutory Undertakers Records
After processing and interpretation of collected data, location and depth of detected utilities can be defined and visualized into 3D reports
Results and findings are provided in DWG (AutoCAD) format
.
Rebar Mapping
Ground Penetrating Radar is an effective tool for detection Rebar in concrete floors and walls.
Cavities/Voids Detection
High Frequency Ground Penetrating Radar antenna can accurate detect cavities and voids.
Concrete Floor Slab Surveys
Ground Penetrating Radar can determine:
Floor slab construction detail
Reinforcement distribution
Floor slab thickness
Voiding under the floor slab
Chimney Flue Location
Flue locations can either be marked insitu, or on CAD drawings.
Road Structure Analysis
Roads, Runways and Pavement Surveys – Ground Penetrating Radar can determine pavement thickness (asphalt and concrete), detect voids underneath the road pavement, identify de-bonding between layers and determine layer thickness.